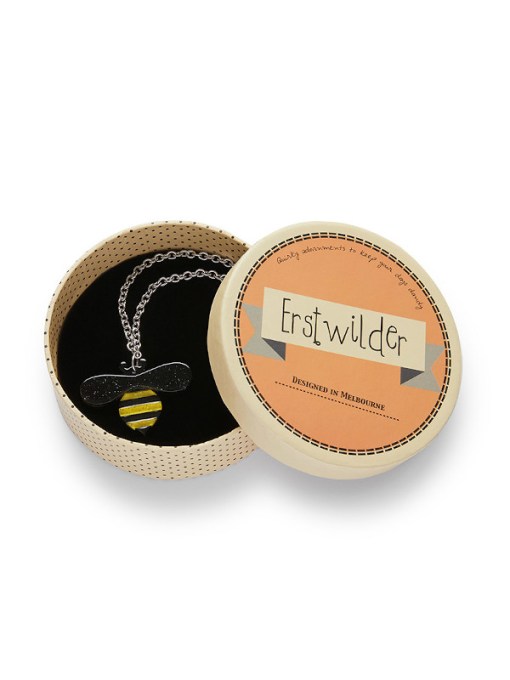 Babette Bee Necklace - Erstwilder
What's all the buzz about you ask? Babette the Bee! That's what! Gorgeous glitter resins fly about stand out solid resins, coming together with hand-assembled details. We think Babette is the bee's knees and like she helps flowers blossom, so too she can help your outfits bloom. Bee hopeful my dear. And bee fun, friendly and fantastic. For hope is the only bee that makes honey without flowers.

Original Designer Louisa Camille 
Height 70 mm x Width 100 mm
From the new 2021 Fan Favourites collection

Necklace chain and jump rings made from silver-plated steel


Hand assembled, hand painted, and released in limited edition

Comes in an Erstwilder illustrated gift box

Please be aware – resin is akin to ceramic and glass and therefore may be damaged if dropped or knocked

Keep your Erstwilder companion neatly tucked away in it's box when not being worn; avoid contact with perfumes, lotions, water and excessive sunlight and you'll have a trusted friend for years to come
About Erstwilder:
Erstwilder is a proudly Melbourne-based label. We design and produce collectible, limited run layered resin adornments, all fashioned to keep your outfits extraordinary and your days dandy.
Born in 2011, the label came to life when artist Louisa Camille began sketching wonderful little creatures in our studio, little creatures for whom we instantly fell head over heels. Fast forward to today and we now work with a team of local designers whose own personalities and passions influence our collections in the most amazing ways.
Everyone at Erstwilder HQ shares a love of animals great and small and we draw a lot of inspiration from all things vintage, rockabilly, pinup, retro and art deco. These passions combine to create our darling adornments which provide the perfect antidote to those drab, ordinary days, and which we hope go some way to enabling self-expression and most importantly, spreading a little bit of joy to to our customers and community all around the world.
Character design is only part of the process; each piece in the Erstwilder collection has its own narrative including a unique name and short story homaging history, myth, pop-culture and classic storytelling. And our focus on design flows through to the packaging which makes an Erstwilder character - an Erstwildling(!) - the perfect gift for anyone who loves to accessorise.