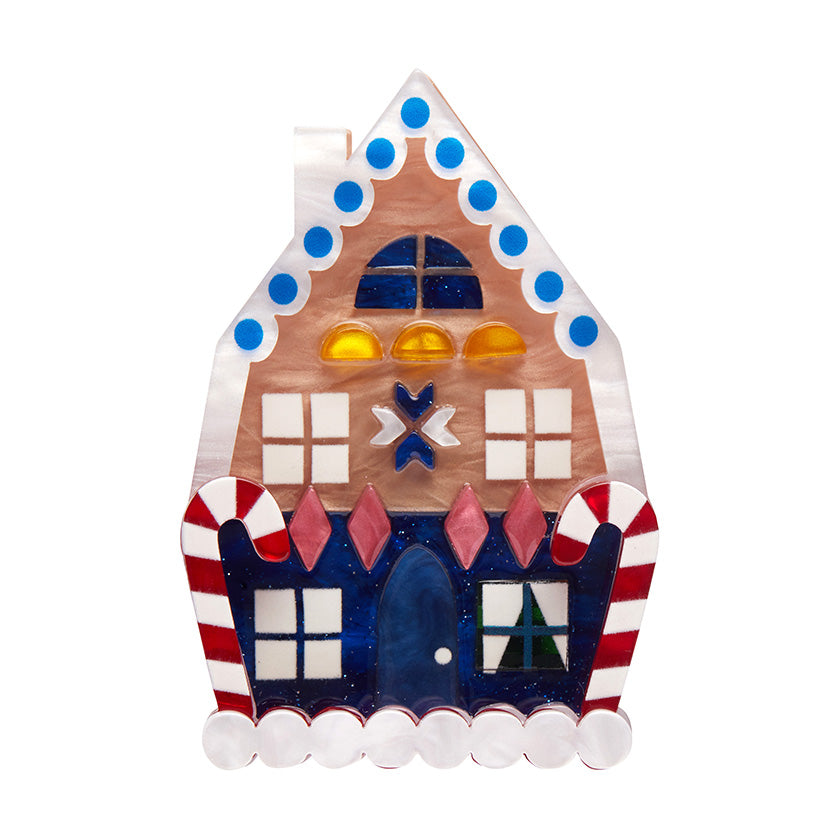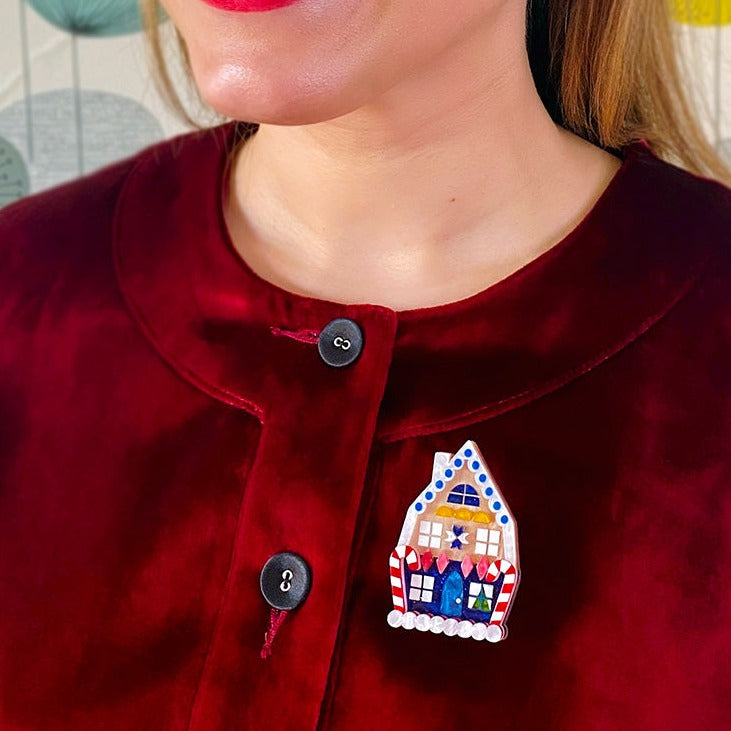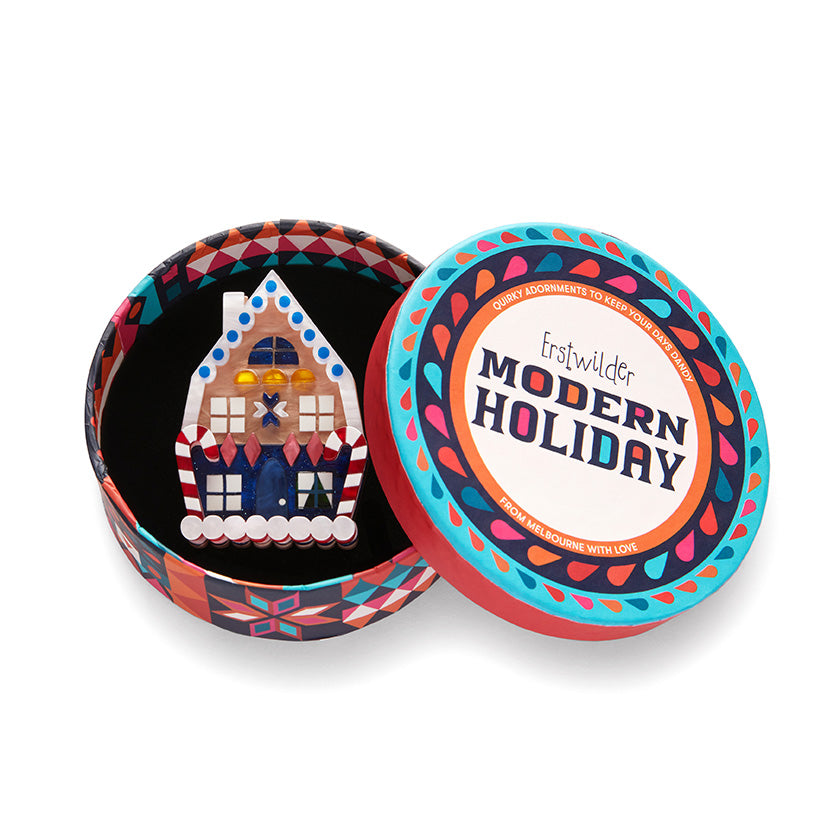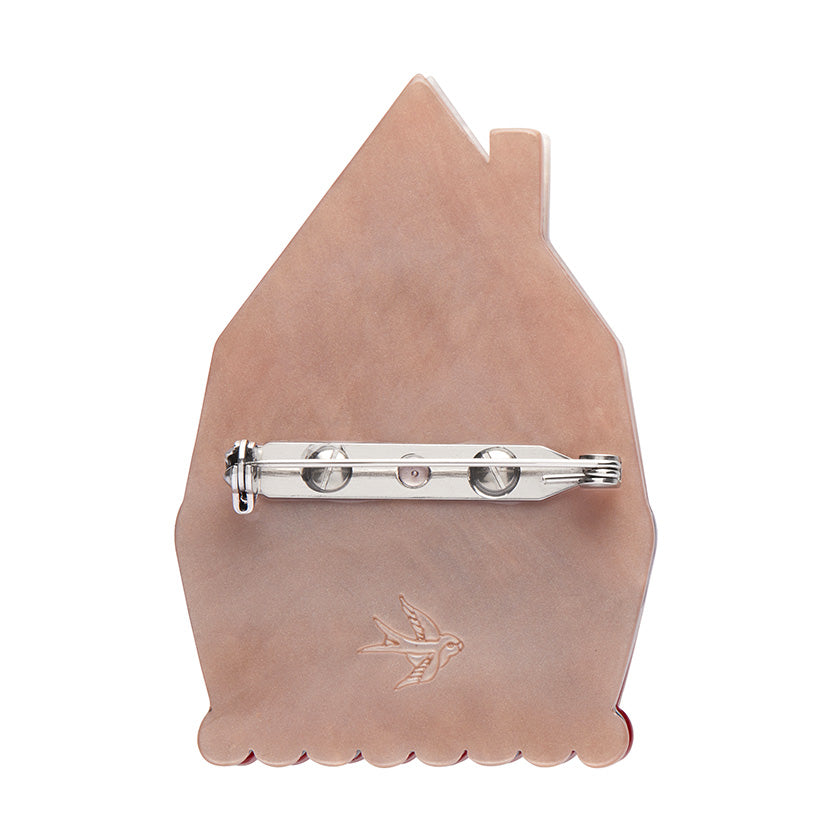 Holiday Home Brooch - Erstwilder Modern Holiday
All we know is, if our pad was made of gingerbread, we'd be throwing a holiday bash almost every night.

41mm x 60mm (H X W)
Comes in an Erstwilder illustrated gift box
Each piece is made from laser-cut and layered resin, hand assembled, hand painted and released in limited quantities
As all of

the 

designs are lovingly glued, assembled and painted by hand there can be fingerprint marks and very slight variations and blemishes from piece to piece
Due to the hand-mixed nature of the resins in

the 

designs, it is also common and normal to find tiny flecks or bubbles in the resin layers
All in all, this just makes each piece as special and unique as you are
Please be aware – resin is akin to ceramic and glass and therefore may be damaged if dropped or knocked
Keep your Erstwilder companion neatly tucked away in it's box when not being worn; avoid contact with perfumes, lotions, water and excessive sunlight and you'll have a trusted friend for years to come
Brooch clasps are made from plated brass
About Erstwilder Modern Holiday:

Taking inspiration from the era of crooners, dreamboats, and cool cars aplenty we present to you a Mdernist Christmas collection that is as hip as it is heart-warming - think chesnuts roasting on an open fire meets a classy Christmas waltz of which Sinatra himself would approve.
An assemblage that brings together a combination of traditional and more modern symbols, updated with a mid-20th century aesthetic, Erstwilder's Modern Holiday collection encourages you to have a jolly Christmas wherever you are and however you plan on celebrating.
About Erstwilder:
Born in 2011, the label came to life when artist Louisa Camille began sketching wonderful little creatures in our studio, little creatures for whom we instantly fell head over heels. Fast forward to today and we now work with a team of local designers whose own personalities and passions influence our collections in the most amazing ways.
Everyone at Erstwilder HQ shares a love of animals great and small and they draw a lot of inspiration from all things vintage, rockabilly, pinup, retro and art deco. These passions combine to create our darling adornments which provide the perfect antidote to those drab, ordinary days, and which we hope go some way to enabling self-expression and most importantly, spreading a little bit of joy to to customers and community all around the world.
Character design is only part of the process; each piece in the Erstwilder collection has its own narrative including a unique name and short story homaging history, myth, pop-culture and classic storytelling. And they focus on design flows through to the packaging which makes an Erstwilder character - an Erstwildling(!) - the perfect gift for anyone who loves to accessorise.